---
New Menu Item!! Sweet Treat!!
Some years ago, we were in Madrid and happened upon a place, a real great place, the
Chocolateria San Gines
. Anyway, we decided that we needed to someday do our best to bring it to our customers. So, starting this weekend, we will be offering
CHURROS CON CHOCOLATE
at the Olympia Farmer's Market. Come on down and check them out. Freshly made churros with chocolate for dipping, yummy!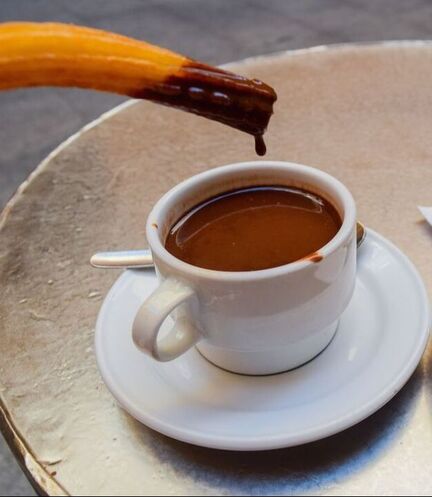 Our updated calendar looks like:

Olympia Farmer's Market July

Fridays, Saturdays and Sundays

from 10 to 3

​

Washington State Fall Fair

Puyallup, September 4 to 27

Our menu as always will include our Mixed Paella and our Vegan Paella. At the Market we will feature specials that use amazing ingredients from the Olympia Farmer's Market.

Market Specials for July

July 3-5
Market Mushroom, Chicken
from Fresh Approach

July 10-12
Seafood Medley with Fresh Mussels
from Sea Blossom Seafood

July 17-19
Creole Style. One of our most popular specials!
OUR MISSION: To provide quality street paella by scratch cooking our pans with the best ingredients available.